News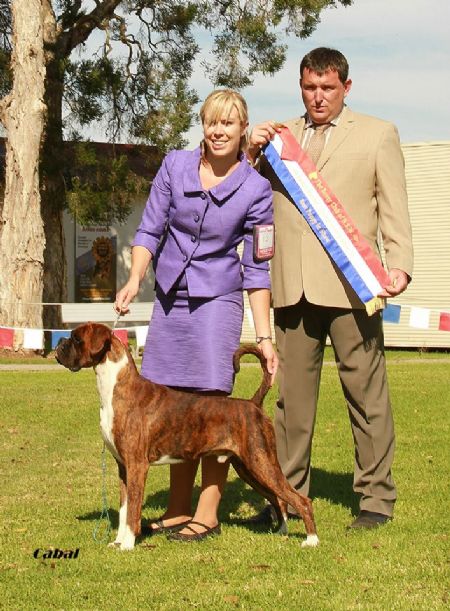 2013 has been a great year so far,
Sydney Royal: Maddie wins a very strong Open Bitch Class and Reserve Bitch Challenge, while Thomas was placed 2nd in very strong Puppy Dog Class!
A week later at the Boxer Club of NSW Thomas takes the Double winning BEST PUPPY in SHOW at both Specialities, the first Under Blair Culling (NZ) the second Under Edna Woods (UK), he was also shortlisted to the final 3 for the Dog Challenge under Mrs Edna Woods (UK), Indi was placed 4th in a strong Puppy Bitch Class at the first Show and Won BEST OPPOSITE PUPPY in SHOW under Edna Woods (UK) 2nd to her brother.
Thomas has been a multiple Puppy in Group all year, we are very excited about the furture for these two youngsters!!
We are now having time out of the ring to help one of our gorgeous girls raise her lovely litter of 7 babies!!
2012
Indi was just awarded BEST PUPPY in SHOW at Uralla KC 7/12/2012 under Mr R Bridgeford (VIC), Indi was the youngest in the line up just being 8months of age, she backed up her win on Saturday by going BEST PUPPY in Group!!! Very proud of how this young lady is going!!!
Thomas was awarded BEST BABY PUPPY in SHOW Speciality under Carol Schofield (Koppernox Boxers UK) at the Western Districts Boxer Club of NSW, Nea Evans Memorial Show on Sunday the 9th of Septempber, Indi was also awarded at the same show 2nd in a large Baby Puppy Bitch Class!!!
---
Aust Ch Gemcharm Im So Hottsowhat Curtain Raiser results and picture posted in the Boxer Quarterly Critque
Intermediate bitch
1. Ch Gemcharm Im so hottsowhat (nr137)
Very attractive, square, beautiful head and expression, dark well placed eyes, good chin, exc top & underline, lovely fore
chest, good depth of brisket, well angulated, good bone & feet, moved well, lovely temperament, in excellent condition
---
22nd June Aust Ch Gemcharm Im So Hottsowhat went Best Intermediate in Show Speciality at the NEA EVANS MEMORIAL Curtain Raiser, at Erskine Park Sydney in the biggest class entry of the day we are over the moon with her sucess in the show ring.
Contact Details
Samantha & Ash Dell
Armidale/Lennox Head, NSW, Australia
Phone : 0421239684
Email :
[email protected]